Great times at the Farmers Market in Brampton
11 August, 2012
no responses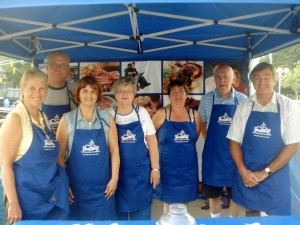 City of Brampton & Brampton Meals on Wheels Celebrates Seniors
A great time was had by all at the Brampton Farmer's Market in Downtown Brampton on Saturday, August 4th.  We all had a great turnout to the event and our Brampton Meals on Wheels Volunteers and Office team were on hand to say hello to the community.  We also handed out many flyers and samples of our delicious and nutritious desserts and treats.  It was a such a hot day but we kept cool under the Meals on Wheels tent.
We also had a lot of our clients drop by to say hello and compliment us on the service and food quality.  It was a wonderful day to reconnect with old clients and meet new ones as well.  Our Volunteer Drivers introduced us to many of the clients we've spoken with over the phone for years but hadn't met face-to-face before.  We are grateful for the Volunteers who came out that day to help us set up the tent and participate in the Senior Appreciate Day event.  Overall, it was a great success.
A Penny for Your Thoughts
(pictured above: Bonnie, Karen, Rosa from Brampton Meals on Wheels Office Administrators) 
We continued to collect pennies from visitors to our booth to help raise money for our programs.  For those who donated "real dollars", we thank you even more for your contributions.  All money raised goes to support our programs.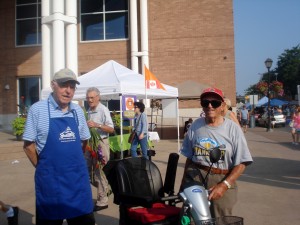 (pictured above:  Albert S (Volunteer Driver) and Potsie (George B.) (client))
 Our Volunteers were happy to see many of their clients at the Farmers Market and the clients liked it to.  It was lovely to see folks outside their homes enjoying the sunshine and all the fresh food and good things you will find at the market.
Thanks again to everyone that Volunteered, the clients that come out to say hello and the positive feedback we got from the community on our program.  We look forward to participating in the Seniors Appreciation Day again next year.
Have a wonderful weekend and we look forward to hearing from you next week.
Your Brampton Meals on Wheels Team