17 Nov

Special Recognition for Brampton Meals on Wheels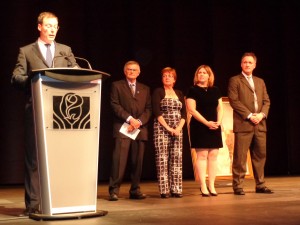 We are proud to announce that Brampton and Caledon Meals on Wheels received the "Everyday Hero's Award" by the Brampton and Caledon Community Foundation (BACCF) at a Gala Awards Ceremony on October 28th at the Rose Theatre.  We were humbled and grateful to accept this Award on behalf of our Volunteers and Board Members that give their time and support those in need in our community.  BACCF has presented the Opal Award to local organizations that demonstrated  its qualities in the pursuit of "doing good service".  This public recognition intends to inspire the continuing actions and values that reflect the principles of the BACCF.  Our Volunteers spend countless hours ministering to those who might not otherwise receive proper nutrition or human contact.    BACCF salutes "everyday heroes" to the safety and humanity of our community and are deserving.
Our Volunteers truly go the extra mile.  In addition to delivering meals, our Volunteers deliver smiles, friendship and hope to many who might not have had a visitor that day. Family members of our clients tell us that they have peace of mind knowing their loved ones are eating balanced meals and that they also have a reliable safety check in place. Our mandate is to help those in need live independently in the comfort of their own homes by delivering nutritious hot and frozen meals by friendly, trained Volunteers from Monday to Friday. The cost of each meal is partially subsidized by the Central West Local Health Integration Network. This allows us to provide high quality meals to our clients for a low, nominal fee.
To find out more about our Hot and Frozen Meal Programs, Volunteer Programs, to make a Donation or to place an order, simply call us at 905-453-4140 ext. 3720 today. We look forward to delivering nutritious meals to those in need in our community.  Again, thank you to BACCF leadership committee for the special recognition and Award.
Shown in the picture accepting the award are:
James Boyd, President of BACCF
Don Sargent, President of BMOW
Karen Humber, Executive Director of BMOW
Christine Sevigny, Executive Director of CMOW
Brad Haines, President of CMOW
Georgia Mouka, Volunteer Blogger